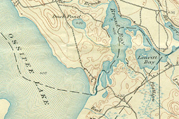 Ossipee Lake is located in Carroll County in northeastern New Hampshire. At 3,245 acres, it is the sixth-largest lake located entirely in the state and is surrounded by the towns of Ossipee, Freedom and Effingham.
The lake is fed by the West Branch River from the north, the Bearcamp River and Lovell River from the west and the Pine River from the south. Water leaves the eastern end of the lake at the Ossipee River and flows into the Saco River in Maine and on to the Atlantic Ocean.
The Dam Bureau of the N.H. Department of Environmental Services maintains real-time information on Ossipee Lake's water level, air temperature and precipitation totals at Westward Shores and Ossipee River observation sites. Access this information by clicking here.
Portions of Ossipee Lake remain undeveloped and are home to endangered animal species, rare plants and some of the finest remaining examples of rare habitats that once were common in the state. Check our list of the special places that make Ossipee Lake one of the best lakes in New England.
If you're curious about the depth and contour of the area's lakes, ponds and bays, check out our collection of bathymetric maps from the N.H. Fish & Game Department.
Is the water quality improving or deteriorating on Ossipee Lake and its bays and ponds? Is our lake in danger, or are things "ok" for now? The latest VLAP reports showing trends of several water quality measurements may be found here.
Watershed Management Planning is a locally-driven mechanism for voluntarily addressing complex water quality issues that cross town boundaries. It recognizes that solutions to water quality issues must be socially acceptable, economically bearable, and based on environmental and land use goals.
Ossipee Lake is protected by a complex set of state and local laws. Click on the Legal link for state and local information.